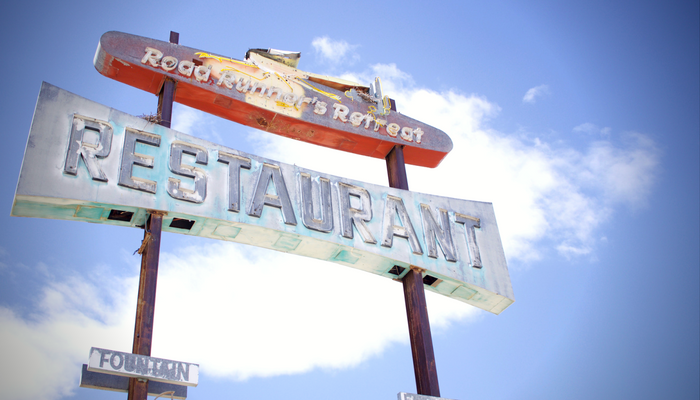 (*I have another Free Song to Give Away! It's at the bottom of this page…scroll down to get it.)
–
Michael: "Mark, I'm coming down to visit you next month. I have a drone and a new Canon camera."
Me: "We should totally do a music video. How about at the abandoned RoadRunner's Retreat in Amboy?"
Michael: "Yeah, that sounds good."
Me: "Okay, we need to start filming right at Sunrise. It's a 3 and a half hour drive from Los Angeles, so let's leave at 2am."
Michael: "Wow, okay, well I'm up most of the night anyway so let's do it."
RoadRunner's Retreat, East Amboy Calif.
With Trader Joes Turkey Jerkey and some Kombucha Tea, my brother Michael and I head out from Oak Park, CA to drive to the middle of nowhere in the middle of the night (Really the only time there is light traffic in LA).
We flew through the usual places off of 210 East, past Barstow, and locked in on the homestretch, Kelbaker road. A long straight road surrounded by glorious mountains, and in the twilight of the morning is very mysterious. It's like a Twilight Zone pathway that slowly takes you back in time to the glory days of the American roadway. The days of tall trademark neon signs, truck stops with milkshakes, burgers, and fries. Back to when your ground transportation vehicle was your ticket to getting your kicks on America's road of freedom.
From Kelbaker, make a Left on Route 66…yes, The Mother Road.
This 10 mile stretch of Route 66 between Amboy and Chambless has a couple of run down bridges that are currently being reconstructed. With the road being closed, we had to go off road in our Ford Mustang.
A couple of close car bottoming out calls later, a few miles East, and there it is. The magnificently proud sign towering all by itself in the ghost of the Mojave desert. It reads, "RoadRunner's Retreat Restaurant."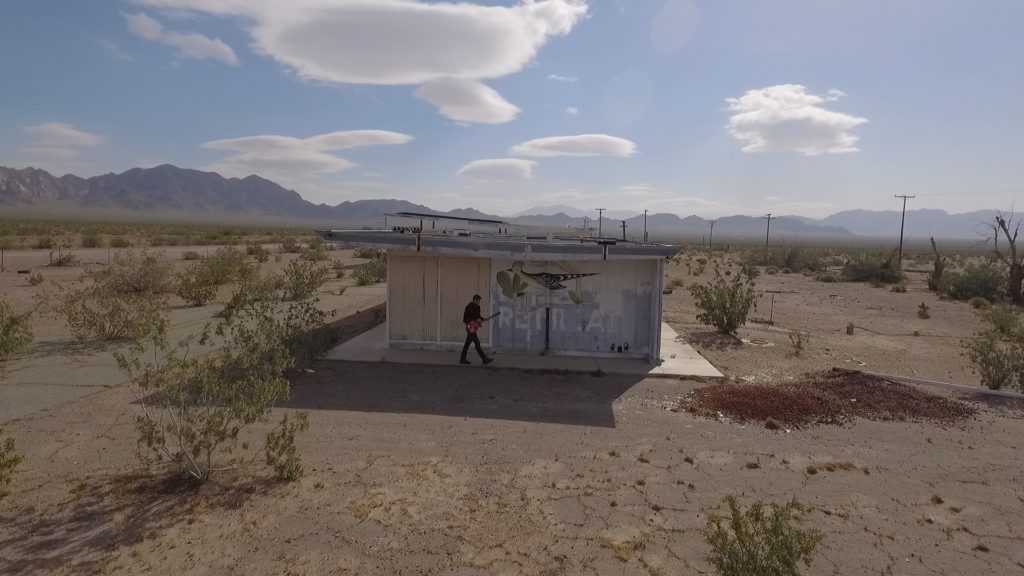 The RoadRunner's Retreat Restaurant opened sometime in the mid to late 1950s, and served classic road food to the hungry trucker, or the passing through traveler who needed a break from the heat of the long desert drive.
What a beauty of a place this must have been for those in days of old. Your classic large trademark neon sign that with nothing but a long road between it and the mountains must have been a sight to see coming down the hill from the West, or from Amboy to the East.
It must of been a hopping place with a restaurant, store, gas station, and even a pond in the back. With only one rare postcard from the glory days, and very few pictures, standing on the grounds today, it's left to the imagination to picture it how it was in years past.
Although the buildings of Roadrunners are empty and run down, it's still as if time has stopped in this hidden lost gem of the desert. The wind was blowing upwards of 20mph on the video shoot day, but if you stood still you could almost hear trucks pulling in, the clang of silverware and plates, and the hustle and bustle of joyful hopeful patrons.
Watch Now "New Day New Start" Music Video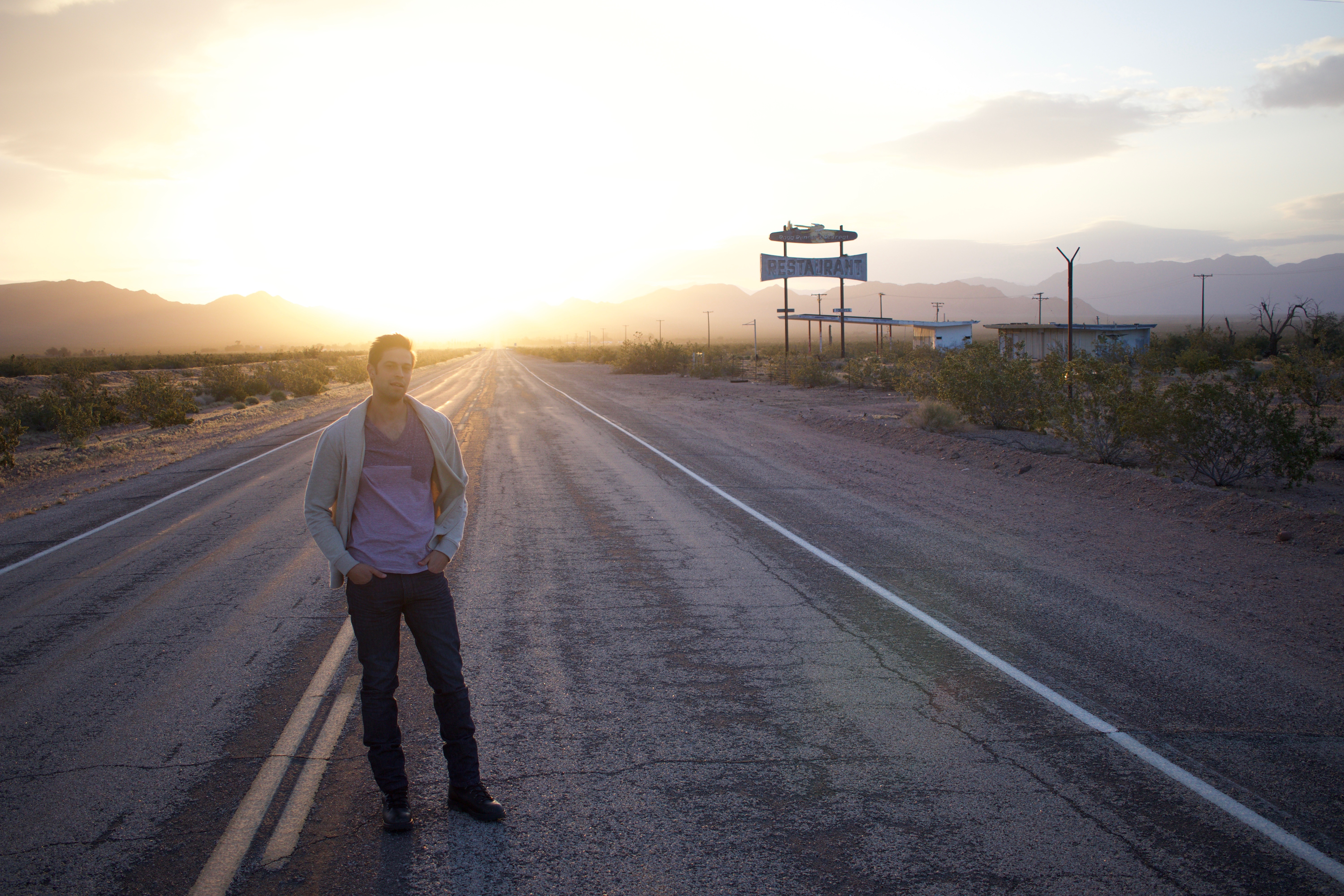 A New Day And A New Start
My latest single is all about leaving behind the worries of the past that can sometimes keep us down, and recognizing the freedom we have in each new day. It's an anthem freedom song. One of my favorite lines from the song is,
"Like a bird out of it's cage, I've been set free, now I'm gonna fly, gonna spread my wings. And Ain't nothing in this world gonna bring me down, no, I've got a new day and a new start."
Such a simple yet powerful metaphor that you may have heard many times before. But for me, when I wrote it it was like something clicked. I went, "Yeah, I'm free…I'm free!" 
I started thinking about how when I get down, It's almost always because of circumstances that aren't going the way I want them to. However big or small those things are, those things don't change who you are. I felt the freedom that I've known as a fact most of my life move a little closer from my head to my heart. Then one of my favorite Bible verses came to mind. John 8:36. It says, "So if the Son sets you free, you will be free indeed." 
Whenever I read or hear this verse it almost always starts to make my eyes water with tears of joy and realization. If the Son has set you free, you are free…indeed! So no matter what life throws our way, no matter how we feel, that  truth never changes. I wrote New Day New Start through the lens of that truth. My hope is that this song encourages you no matter where you are in life or in your faith journey. I hope it's a song you can listen to each morning and say, I've got a new day and a new start!
Why Roadrunners?
Uh, because it's cool ;). But seriously, I have been looking for an excuse to film a music video out in the middle of the desert on Route 66 in California. As I was coming up with a story idea, and how I wanted to reflect this "new start" feeling, with Roadrunners being the film location of first choice, it really started to write itself.
I wanted to show how it's in the most quiet and maybe most desolate places that we find ourselves. We need to shut off the noise of busyness and just listen sometimes. RoadRunners had the look, the drone zone capabilities, and the quiet place all going for it. Plus the generous owner, Ryan Anderson allowed us to film there. Side note, such a cool guy, and it turns out Roadrunners was passed down to him through his family! Very cool to talk to someone who grew up around that place.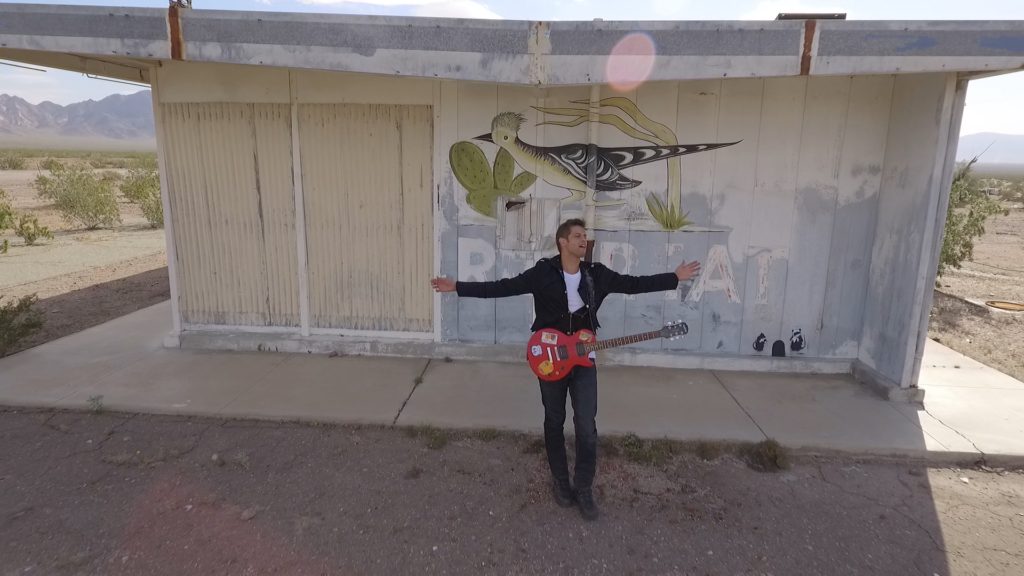 During a phone conversation with my brother, we had a moment where we both went…"Yeah!!!" It was there all along. Have a person in the video find himself at Roadrunners. If you check out the video, a lot of stuff is happening pretty fast and it's a bit mysterious. It's basically showing a guy(me) in a hurry to go through some old postcards. He finds an odd old postcard of Roadrunners, and on the back it says, "Find Yourself At RoadRunners."
I then fall asleep, and in to a dream where I head to Roadrunners and see myself there singing and walking around. I then decide to chase myself, find another postcard, touch it and then I wake up, only to get zapped back to the desert. So in the end you are left wondering, "Is the desert reality, or the desk scene reality?"And once again, the basic message of the video I wanted to convey is, sometimes you find yourself in the strangest most abandoned places. I will leave it at that though because the video is a bit mysterious, and I want the viewer to come to their own conclusions on what it means.
Long Awaited
It was a long awaited road trip for my brother and I. And although it was 7 hours roundtrip, and a 7 hour workday in the heat of the desert with a very loud 20mph wind, it was so worth it. The quality time alone made it. And there is such a cool freedom that still echoes on the abandoned Roadrunner's Retreat. I wanted this video to carry a message of hope in a mysterious way, and also have it stand as a small tribute to a beacon of light in the days of old. It is my hope that wherever you are in life, whatever you are going through, this song will remind you that every moment or new day is a chance for a new start. So sit back, relax, and enjoy the Official Music Video for my latest single, "New Day New Start".
Oh yeah, one last thing. To say THANK YOU for being one of my subscribers (and for reading through this long blog 😉 I wanted to give you another one of my songs for free – no strings attached.
Download – Into You Love – here
If you like the track, you might also consider my latest EP
Can't Just Let Go – Click here to listen. Okay…now sit back and enjoy the New Day New Start music video 🙂
Talk soon,
p.s. Comment below and let me know what you think of the video and song/s, and if you have any Route 66 or road trip stories…love to hear from you!
3 Comments